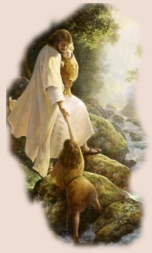 DIRECTIONS TO VICTORY BLVD.



Hi, I heard you moved, where have you been living?
oh, just in down and out city.
I've heard that city is loosing it's population.
You should come and visit the city that
I live in. It's a lot more peaceful and
good neighbors are there.
How do I get there?
Go down" satan is a liar" St. until you
reach an intersection.
Do not go left because it is a dead end.
Go right "Mind Of Christ" Road.
then turn left on "Pulling Down
Strongholds" Drive.
Continue left on " Casting Down
Imaginations" Lane.
Go right on " No Weapon Formed Against
Me Shall Prosper" Street, straight on
when the Enemy comes in like a Flood
God Will Lift Up a Standard Drive.
You should run into "We Walk By Faith
and not By Sight" street which is very dark.
There will be illuminated street signs reading,
" Thy Word is a lamp Unto my Feet
and a Light Unto My Path." Follow these signs
staying on the straight and narrow path.
You will make it to the end of the street
even though there are some rocks and potholes
that may cause you to stumble, and possibly fall.
If this happens you must get back up
immediately, not looking back. When you
successfully get to the end of the street, you
have reached the " Press Toward the
Mark of the Prize of the High Calling"
Intersection. Take a right to the
one way street," He is kept in Perfect Peace
Whose Mind is Stayed on Him."
The last street you will see which will
be your final destination is
"Endured To The End."

COPYRIGHT, CAROL JACKSON
MINISTRIES,1997.

All The Listings Of
My Pages Are In The

Library